It's-a-me! ...fine, I'll stop.

Right, where to start? My name is John, I'm 30-years-old and from the UK.

I'm a writer, composer and rap superstar. Okay, I made that last one up.

I discovered my love for writing as a teenager, and have contributed more than my fair share of cringworthy fan fiction and hopelessly biased opinion pieces over the years.

Now as a self-proclaimed adult, I have developed my own voice and can say with my hand on heart that I never publish a piece of writing without it being well-researched, informative and unbiased.

I write every single day - no excuses. You can read samples of my writing here.

My love affair with gaming began when I was gifted an Atari 2600 Jr. as a youngster, and has thrived through each console generation. My favorite console of all time is the Sega Master System 2. My current platform of choice is my gaming PC.

I enjoy the majority of game genres, with a preference for third-person action-adventure titles. My list of favorite games are sprinkled with FPSs, RPGs, platformers, racing, sports, and strategy games.

I absolutely love Splinter Cell, Mass Effect and everything Sonic. I can't help it.
Aside from playing video games and writing about them, I've been creating and producing music for over 15 years. I started by producing hip hop, R&B and pop instrumentals and forging relationships with rappers and singers to create finished songs. I've recently branched out into sound design and creating soundtracks for video games and movie projects.
Check out my
Twitter
and
follow me
if you'd like to get to know me - I love making friends with like-minded people. Especially gamers (you get the VIP treatment).
That's about it! Once again, thanks for visiting!
- John
Powered by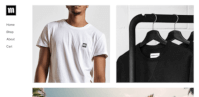 Create your own unique website with customizable templates.